BARRA OF MENDOCINO: ORGANIC SHINING DELIGHT
Following in the footsteps of his father, Antonio Barra, and his maternal grandfather, Guiseppe Rovera (who immigrated to Mendocino County from Piedmont, Italy in 1906), Charlie began farming grapes in the mid-1940s.

By 1954, he had purchased Redwood Valley Vineyards, the ranch that is home to over 175 acres of organically grown Pinot Noir, Zinfandel, Cabernet Sauvignon, Sangiovese, Merlot, Petite Sirah, Chardonnay, Pinot Blanc, Pinot Grigio and Muscat Canelli. In 1955, when Charlie began planting new vines, he was fortunate to be able to rely on the practical experience of his father and grandfather to help him make the right choice in selecting rootstock and varietal clones.

These choices, over the years, have proven that he made the right ones. Choosing to farm organically is just now beginning to pay off with consumer demand growing rapidly for wines grown without the use of chemicals, pesticides or other harmful materials. With over six decades of experience in the back pocket of his Wrangler jeans, Charlie Barra -- now 84 years old -- farms his organic vineyards with the goal of producing rich, distinguishable fruits that shine through in every glass of BARRA of Mendocino wine.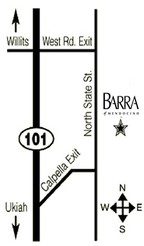 Link to Winery Website:
CLICK HERE
to visit the winery's own website.
BEFORE FINALIZING TRAVEL ARRAGEMENTS, PLEASE NOTE: Estate wineries not only observe familial traditions, they are working businesses with ongoing operations. Overwhelmingly, wineries following the artisan tradition of high craftsmanship tend to be family-owned and operated with small staffs. Estate wineries are by definition relatively modest in size and scale, particularly in comparison to modern commercial factory wineries. Some of the estate wineries represented by AEV may not have staff or facilities available for visitors 365 days a year, though generally reservations for visitation may be made.

Reservations help assure a warm welcome and, in many cases, can allow the family and staff tending to the vineyard and winery much needed time to prepare for your arrival. Kindly do them the courtesy of making appropriate reservations, prior to finalizing wine country travel itineraries. Travelers intending to visit an estate winery should contact each winery of planned visitation at least thirty days prior, to ensure both that they are admitting visitors during the appropriate time and that their ongoing operations are able to graciously accomodate your visit.
For more information:
Contact AEV
.